bär works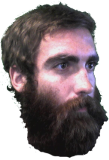 before we begin...
Like life itself, this document is ever-changing and unfinished.
Existence precedes essence.
Some of what you read might be

[wait.hacking.]

propaganda.
Other writing was crafted by Facebook's recommendation algorithm.
It is

...
once we've started...
I'm Matt Baer
I make things on the internet and wander and write and do other things, too
As with all things on the internet, verify sources, question the author's authority, and don't take things too seriously.
* * *
where
¯\_(ツ)_/¯
NYC — May 7
Jax — May 12
Tampa — May 18
Jax — May 23
OBX — July 6
Jax — July 16
France — July 21
Italy — July 27
Jax — August 6
Spain — September 13
DC — October 19
Jax — October 24
Brussels — January 31 – February 7
Jax — February 7
Portland — March 27 – March 30
recent
projects
さまよう (Samayou) — save useful URLs while you travel. A much-needed service I made while I was in Japan.
#shouldvestayedhome — selfies from the underwhelming world outside. Preview.
building
semi-launched
Snap.as — photo galleries and essays. Get notified.
Read.as — ActivityPub-enabled reader. Look.
unlaunched
Remark.as — privacy-first comments. Look.
Draft.as — simple text collaboration. Look.
Jot.as — private note-taking. Look.
the passage of time
I take the quaint pastime of watching the clouds go by and speed it up for you. See time-lapses from a mountain in Japan or a beach in Florida and places in Italy and a hotel in Honolulu.
the frozen moments
Couldn't afford an iPhone X; stuck shooting on a camera from 1985. See the gallery here.
More galleries published on Snap.as.
the written thoughts
Most of my concerns are Trending on Facebook. But when my squishy human body distracts me from my Twitter feed, or my iPad or phone dies and some original thought comes to mind, I publish it on Write.as.
the beard
2008 – 2014 saw a diverse range of facial hair styles that inspired both awe and slight nauseousness in anyone within eyeshot.
Gallery coming soon.
the free services
There aren't enough free, stable internet utilities. I run some for myself, and want to share. Besides the things I'm building above (that are free to use), let me know if you want an account on any of these.
Writing Exchange — a community of writers in the fediverse.
Code.as — code hosting, public or private.
the code
While I wait for code-writing AI to take my job, I program for fun and pine for the days of punchcards, chanting: It can be this way forever! The computers will do what I say...
support
Like what I do and build? You can help keep me building simple, privacy-preserving software, and away from an office job, in a couple ways:
Besides money, a little shout-out about the things I'm building goes a long way. If you really like Write.as, there are several ways to tell the world about it.
* * *
Further reading
---
Contact
Want to talk or type? Find me in real life or via email, respectively.
Email is echo bWF0dEBiYWVyLndvcmtzCg== | base64 --decode or (if you don't know what to do with that) combine:
My first name
@
This domain name
This millenial uses Signal for messaging and you should, too (email me for my phone #). PGP key on Keybase. Code on GitHub. Bite-sized complaints about software on Twitter. Remember to throw out your TV and delete your Facebook.