bär works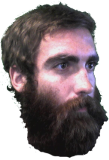 before we begin...
Like everything, this document is ever-changing and unfinished.
Existence precedes essence.
Some of what you read might be

[wait.hacking.]

misinformation.
Other content was surfaced by Facebook's news feed algorithm.
It is

...


👍 Like
facts
I'm Matt Baer
I make software that I hope is good
As always, verify sources, question my authority, and don't take things too seriously.
* * *
clippings
projects
#shouldvestayedhome — selfies from the underwhelming world outside. Preview.
building
next
Remark.as — privacy-first comments. Look.
semi-launched
Draft.as — simple text collaboration. Look.
Attach.as — file hosting for your blog. Look.
unlaunched
Public Bio — one page for all your links. Look.
Read.as — ActivityPub-enabled reader. Look.
ideas
Listen.as — something something with audio. Look.
Jot.as — private note-taking. Look.
internal
Code.as — privacy-first code hosting. Look.
Capture.as — website screenshots as a service. Look.
Embed.as — rich media embeds. Look.
support my work
I'm building humane, privacy-focused software on principle above all, supported by a sustainable business model. If you like that, you might:
I could also use your help getting WriteFreely into your local public library.
You can also help us by spreading the word about Write.as — whether in a blog post, to your Instagram followers, or to friends and family in real life.
the frozen moments
Rules are Rules — photo series from a trip to Japan. Fall 2017.
Doors — a photo series from a trip to Europe. Spring 2016.
More galleries published on Snap.as.
the written thoughts
Most of my concerns are Trending on Facebook. But when my squishy human body distracts me from my Twitter feed, or my iPad or phone dies and some original thought comes to mind, I publish it on Write.as.
etc.
The writing goes on — sketches on Micro Matt, all of the Write.as Blog, our transparency blog, my WriteFreely development blog, various anonymous blogs on Write.as and individual posts.
the code
While I wait for code-writing AI to take my job, I program for fun and pine for the days of punchcards, chanting: It can be this way forever! The computers will do what I say...
---
Contact
Want to talk or type? Find me in real life or via email, respectively.
Email is echo bWF0dEBiYWVyLndvcmtzCg== | base64 --decode or (if you don't know what to do with that) combine:
My first name
@
This domain name
I use Signal for messaging and you should, too (email me for my phone #). PGP key on Keybase. Code on GitHub. Bite-sized complaints about software on Twitter. Remember to throw out your TV and delete your Facebook.
---